Words for Superbalist's The Way of Us |
What does it take to be the best dressed man in South Africa?
Only Menzi Mcunu could reveal the secrets behind his award-winning personal style and his journey towards being labelled GQ Magazine's Best Dressed Man. Which is why The Way of Us met with him at a seaside beach bar, in order to discuss the topic of interest and hopefully gain some insight into the style philosophies he lives by.
"Dandyism is all or nothing" explains Menzi. "It's more than just what you wear, so you can't do it half-heartedly".
This was his response to a question about the meaning of dandyism and why he has chosen to identify as a dandy, before going on to describe dandyism as a "study on attention to detail and personal elegance in all forms."
This naturally translates outwardly through ones clothing and classic men like Jidenna, Tom Ford and even the fictional Jay Gatsby serve as key icons when attempting to visualise the dandy aesthetic.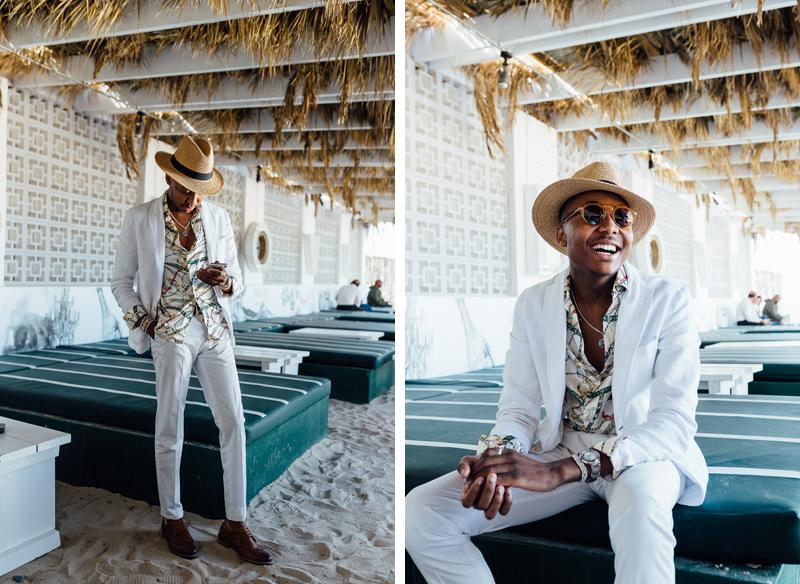 The "original dandy" Beau Brummel was said to have spent five hours a day getting ready, and while he was infamous for his vanity, he was also credited as the pioneer of the modern man's suit and tie. Menzi, whose brilliantly white linen ensemble reflects not only the summer light but also Brummel's penchant for the finer things in life, was quick to point out two things.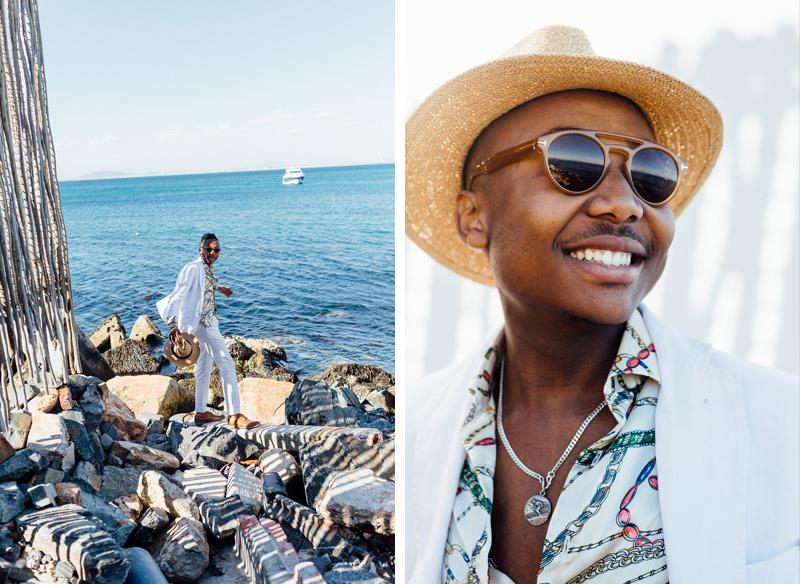 "Firstly I think we can describe South Africa's dandy community as 'post-dandyism' or 'Afro-dandyism' as there are some key differences between the ideologies around the Victorian and Edwardian era dandyism and the dandyism to which many black dandy men subscribe."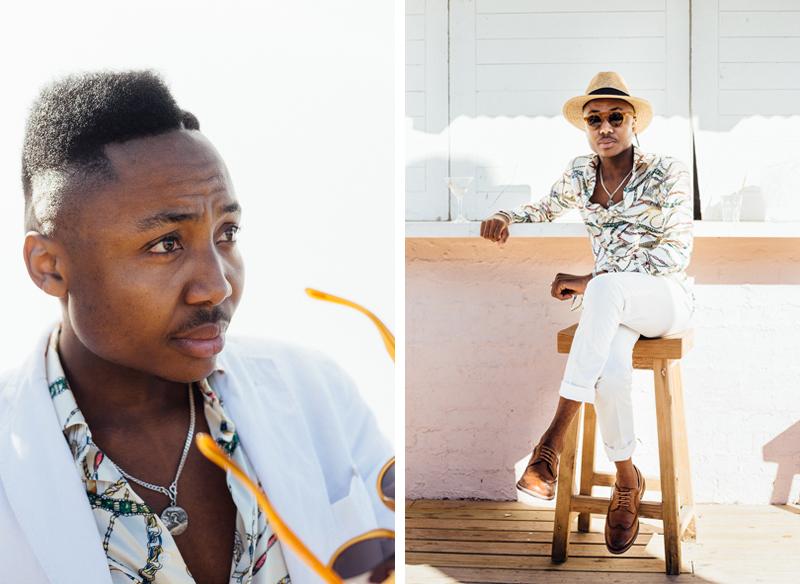 He continues to express that while the origins of dandyism stemmed from members of the Victorian middle class who used their charm, refined manners and impeccable style to infiltrate aristocratic spaces, Afro-dandyism almost worked as a response to perceptions around black masculinity, where black dandies reclaimed classic suiting as a form of style, self-actualisation and broadening of the often one-dimensional, stereotypical perceptions of black men.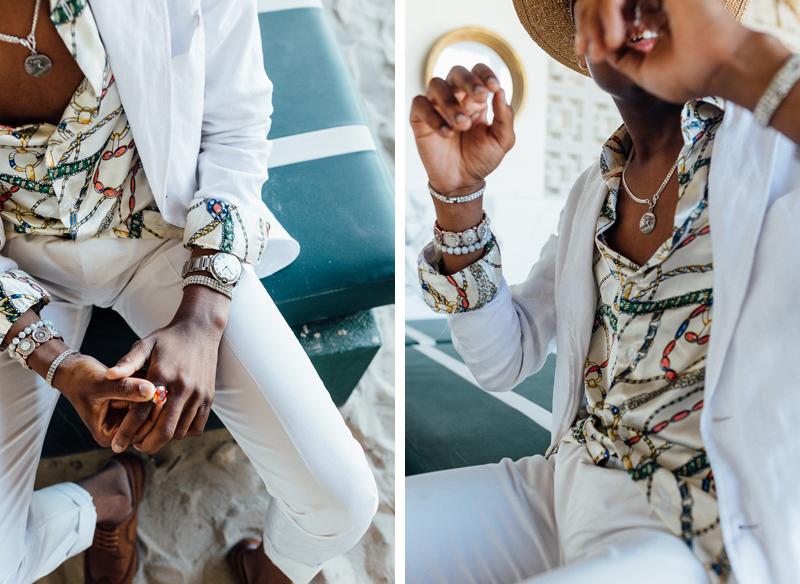 "What I like about dandyism is that it embraces masculinity as well as perceived femininities with confidence. I like to take care of myself, to regularly visit the barber and look well-kept. I don't think there's anything wrong with that."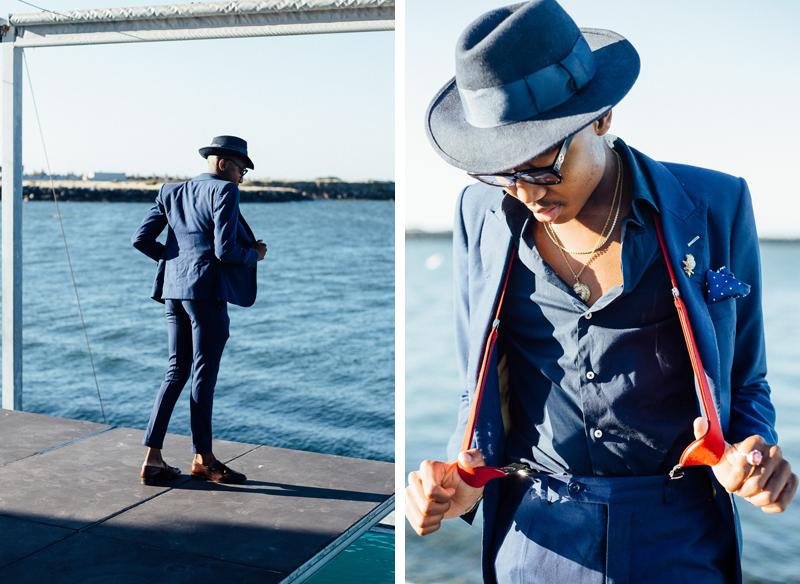 With the last sip of his drink and the afternoon light reflecting from the various bracelets decorating his wrist, Menzi gets down to the business at hand, which is to provide The Way of Us with a detailed lesson in what the man who gives a damn should wear to his events this festive season.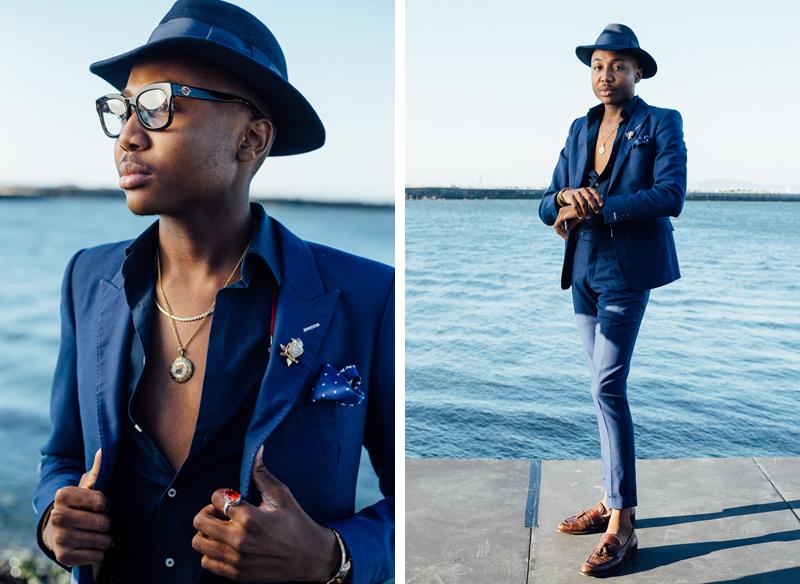 For a daytime affair
"Keep it comfortable and airy. It's best to wear a colour that will reflect the sun's light and the summery mood. White is always good, with the theme of lightness carrying over to fabrication as well. You don't want to overheat, so linen in the form of a relaxed jacket works best."
"I'm really into printed silk shirts as of late. They're a great way to express your individuality with their vibrancy being inherently festive. I like to wear these with a few loosened buttons to maintain a casual yet sophisticated look."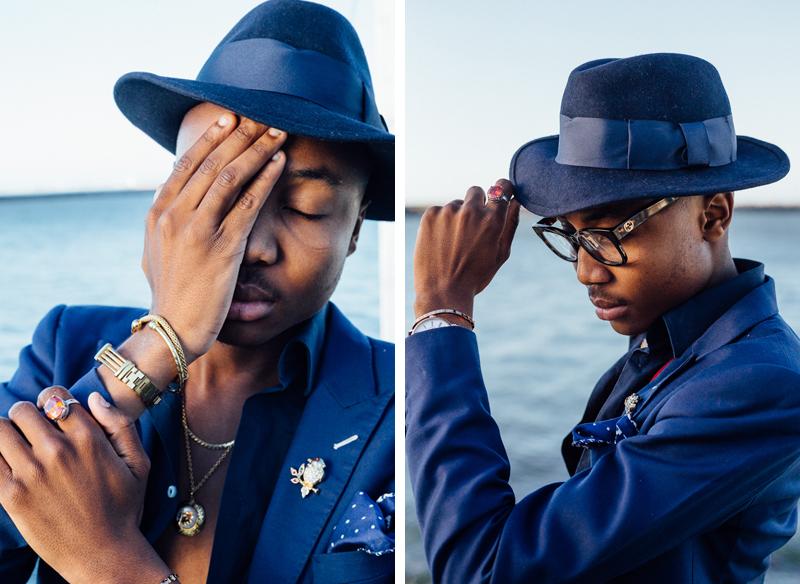 "Accessories are where you can really stand out. Outdoors I suggest a statement pair of sunglasses, with the thick framed tortoise shell variety being a personal favourite."
"The Italian word 'sprezzatura' is used to describe an almost studied carelessness or conscious nonchalance. You essentially are to dress like it's second nature for you, and casual 'errors' like a stack of mismatched bracelets are encouraged."
"Wear a hat."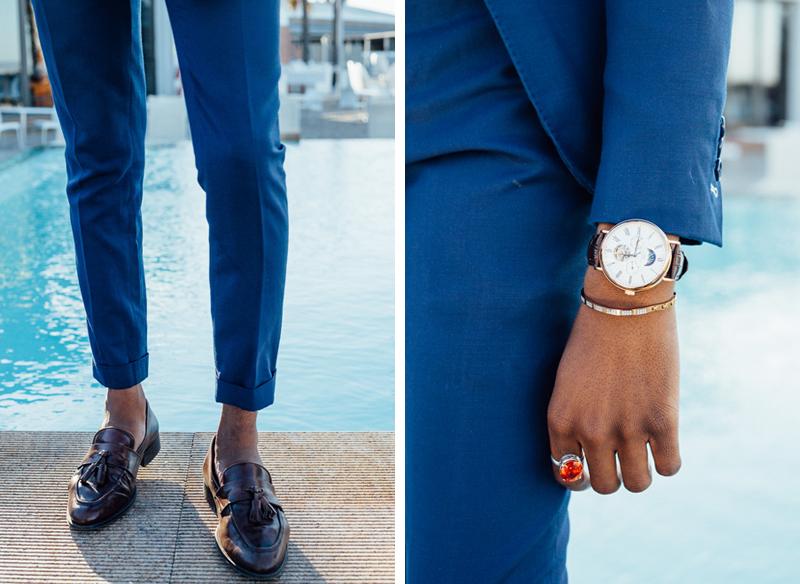 "While we obviously gravitate toward darker colours for the evening, something a little more interesting than black is a suit in blue, paired with a matching shirt."
"Lose the tie, undo the first few buttons of your shirt and accessorise with a pendant instead. A party atmosphere lends itself to being a little less formal, while the crisp navy suit and shirt still make for an elevated overall look."
"Wear secret socks and some brown moccasins or loafers and instantly look more laid back. Remember to make sure that there's about an inch of space between your pants and your shoes."
"Again, in true dandy fashion, finish it off with a hat."
First Published at Superbalist
Credits:
photography:
Tauriq Dolley